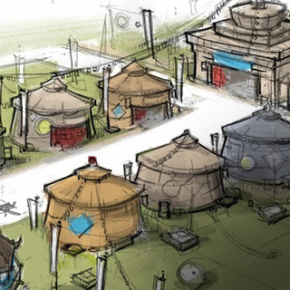 Foi lá em 2011, bem no começo do THECAB, quando divulgamos pela primeira vez os trabalhos criados pelo artista Ed Li para A princesa e o Sapo (The Princess and the Frog), filme de 2009, produzido pelo estúdio Disney Animation.  Hoje trazemos novos sketches de Ed Li, desta vez produzidos para o filme Planes, de 2013....
Compartilhamos hoje uma série de artes criadas por Akiko Crawford para os filmes Planes 1 e Planes 2, produzidos pelo estúdio Walt Disney Animation. Visite o site para conferir mais trabalhos de Akiko Crawford.
Em destaque hoje as concept arts criadas por Ryan Carlson para Planes, filme de 2013 desenvolvido pelos estúdios Disney. Ryan também participou da produção de Thinkerbell, Lili and Stitch short e, mais recentemente, The Emoji Movie e a série Duck Tales. Visite o site e conheça mais sobre seus trabalhos.