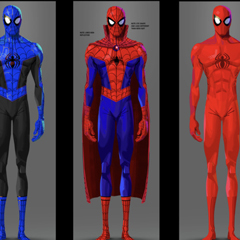 Hoje damos destaque a mais uma ótima galeria de designs criados para o filme Spider-Man: Into the Spider-Verse, do estúdio Sony Animation. O artista é Yuhki Demers, e visitando seu website  você pode conferir todo seu portfolio, que inclui artes para Big Hero 6 The Series e o filme Emoji Movie. 
Durante os anos de 2014 e 2015 (puxa, faz tempo!) publicamos no THECAB diversas artes do game Sonic Boom. Entre os artistas que trabalharam nesta produção, os divulgados aqui foram Nicolas Weis, Travis Ruiz e Erwin Madri. Hoje voltamos ao tema, mas agora trazendo os trabalhos de Yuhki Demers, artista que há...
Abaixo você confere mais um pouco da arte criada para The Emoji Movie, filme da Sony Pictures Animation, desta vez destacando os trabalhos de desenvolvimento visual do artista Yuhki Demers. Bem legal, hein?